Home / About Us /
Our
Approach
Every project we do, while following similar project management methodology, is tailored to your
business needs.
Whether you have a small software development project that is time critical, a large database with a
system integration requirement that requires high level technical architecture
or a vision to utilise machine learning and predictive analytics, we deliver what works for you.
Microsoft Account Manager
Objective punch way above their weight, although an SME, Objective has the skills to deliver.
Our Values
Our mission is: 'Turning Vision into Success'
Passionate…

about building innovation

Friendly…

developing long term relationships with our clients

Flexible…

working together effectively

Expert…

to provide the best solution

Transparent…

keeping you in the loop with regular updates and communications
Working with you
You will have a designated team comprising an account manager, technical project lead and experienced developers for all software development projects, as well as data scientists for analytics work.
You will receive regular communications, progress updates and transparent reporting over the lifecycle of your Software Development and Data Analytics Projects.
Two-way communication is key to a successful outcome.
Accessible – You have access to your team. We do not outsource any work. We keep all our work in house so that you have constant access to the project managers, development and analytics team working on your project.
Dependable – We do not lock up our code. If you want to take your project in house a professional developer can continue the development. We would rather a good relationship than locking you in and causing resentment.
Transparent – You will be kept in the loop. Typically, monthly client calls are arranged to show the latest additions and progressions made to your development. This way, you are kept in the loop and anything that doesn't seem right to you can be adjusted. Our client portal, which integrates with our timesheet system, enables you to log in and see work undertaken over the project lifetime.
The Process
Our approach follows 5 steps: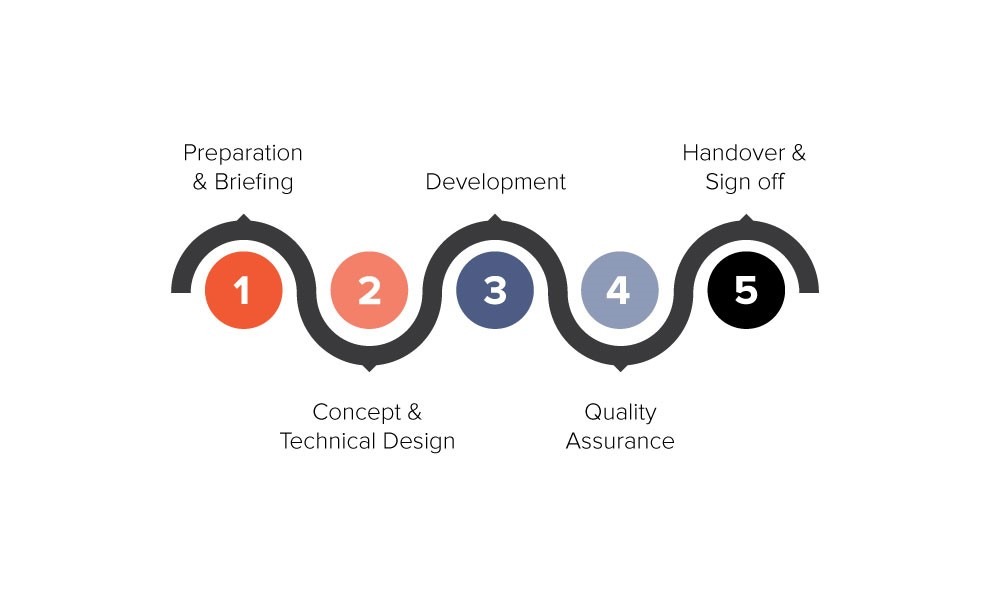 Getting Started
Preparation and Briefing – getting to know each other, your business, and your requirements.
Concept and Technical Design – much like the plans for a new house, this stage is of importance for the team building your software. We don't just do this on paper, we build you a clickable framework so you can give us feedback before we start on development, which saves time and costs later.
Our Development Models
Agile
Whilst some projects flow straight through one phase of development, this is not usually the case. There may be uncertainties we cannot foresee in the technical design stage, or you might just want to get the software built as soon as possible. In this case we would suggest using the agile model of development. For this we charge time and materials, which usually works out beneficial for you.
Fixed Price
On the other hand, you may have a set budget or want the reassurance of fixed costs. For this we follow a more structured model. We write a comprehensive technical design then build to this, with any changes being specified out and their implications on the budget and development time being evaluated before you give the go ahead for them. For fixed price projects we add a contingency budget into our quotation.
Testing and Handover
Quality Assurance – Here we test the system and hand it over to you to test in your business setting.
Handover & Sign Off – Once you are happy we pass the system over to you to use.
In Use
Once your project has been signed off and handed over then our relationship doesn't have to stop there. We can provide you with continued support and access to our Client Portal to log support tasks and change requests.