Whilst many companies choose off the shelf software for their internal processes, these often lack features that make your business stand out for what it's really good at!
Here we look at 5 key reasons as to why you should be investing in bespoke software development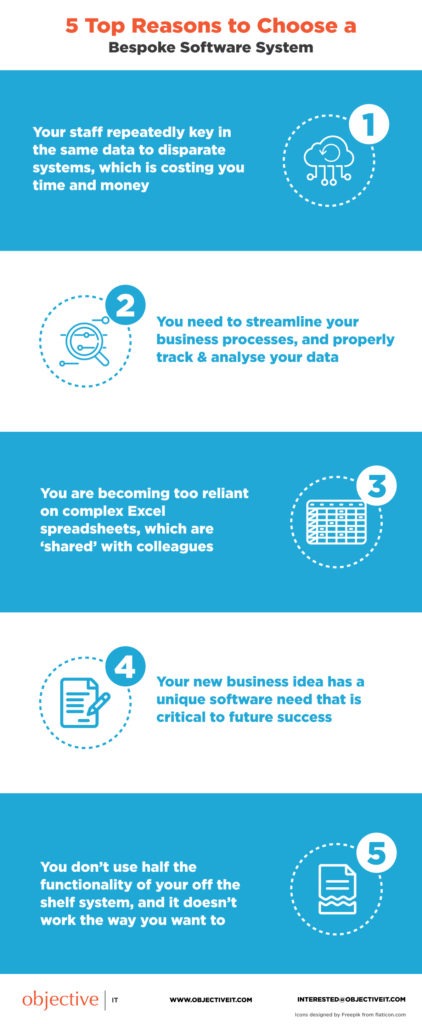 1. Rekeying Information
If your staff are repeatedly rekeying in the same data into different systems, bespoke development will save you time and money by removing the need to rekey the information.
2. Streamline Processes
A bespoke system will all you to properly track and analyse all your data as there will be a 'single version of the truth', instead of looking at many different systems and sources to try to analyse your data.
3. Reliant On Spreadsheets
Are you too reliant on spreadsheets? These offline documents are hard to share and are even more easily lost. An online bespoke database allows for shared, tiered access to all your employees and clients.
4. Unique Functions
Your business has a niche or bespoke function itself that isn't included in any off the shelf software. Bespoke development allows your software to follow your exact business logic, terms and functions to do what is best for you.
5. Off The Shelf Has Too Much…
Sometimes off the shelf software doesn't have enough functions, but on the flip side, sometimes there are so many random features that have no relevance to your business, just getting in the way. With a bespoke system, you wouldn't pay any extra for this, you only pay for exactly what you need.
If you want to find out more, get in touch with us!