Situation
Essex based Rail Professional Development Ltd (RPD) is a leading provider of specialist business consultancy and competency training services. Established in 1993 by Paul Durrant, RPD work primarily in the rail industry with the likes of Balfour Beatty Rail Ltd and London Overground.
Back in 2014 RPD won the tender to deliver train driver competency for Crossrail the large, railway construction project mainly in Central London, (now renamed Elizabeth Line)
Well before Crossrail's official launch the drivers need to be trained to a mandated experience standard, and this extensive training needed to be effectively scheduled and delivered within a specified timeframe.
Paul Durrant and his team chose to work with Objective to build a bespoke database to manage all training events and resources.
Solution
Building on the success of Assure CMS – RPD's flagship competency and management training system, a database module was developed to systemise planning and resource allocation for Crossrail driver training. Although built with driver training in mind…this module can be used to control any training project as it co-ordinates and monitors resources such as trainers, equipment, classrooms and assessors.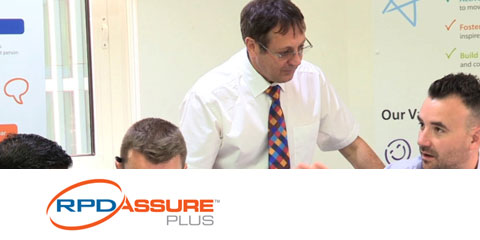 Business Benefits
Deals with the complexity of multiple trainers, 1:1 sessions and different resource types and requirements for each training event.
Search and edit facility: view training by week, month or year and drill down into further information i.e: add resource and edit on the fly.
Early warning indicator for event planning, colour coding alert: blue indicates planned gap, green shows when resources successfully allocated, yellow determines resources need to be allocated and red flags when insufficient resources available.
Additionally the new module links to the Assure CMS to record training and assessment results. This integration is optional as the training planning and resources module can stand alone.
Products and Technologies Used
Microsoft ASP .NET 4.5 Microsoft SQL Server 2012 for data storage
When you need a training database or a database to streamline your business processes please Contact Us