The B2B Marketing Expo is the biggest of its kind in Europe, offering over 700 exhibitors, 500 seminars and a wealth of innovation. Being held at the London ExCeL arena, alongside the B2C Marketing, Sales Innovation and MTEX expos, the expo brought together the best minds in business, not just marketing, to discuss the latest and upcoming idea and technologies to help businesses succeed.
Here we're going to take a look at five of the speakers from the second day of the event, and see what they had to offer to the attendees…
Scott Brinker, ChiefMarTech – "Mastering Marketing Technology"
Kicking off day 2 was Scott Brinker with his take on how to master MarTec. The key to being successful within the marketing space is to emphasise people. Deemphasise data and technology and focus on people and you will win. If you can keep an eye on customer experience throughout the entire customer life cycle, you'll have a much greater success rate at keeping your customers loyal and retain them for longer.
Scott also discussed MarTec's Law, a marketing take on Moore's law. Brinker found that whilst there is a constant improvement in marketing, the current state is paradoxical. Whilst organisations are improving, however at a slow rate, technology available is improving at a rapid rate. So whilst organisations are adopting better marketing technology, the difference between technology adopted and that available in increasing.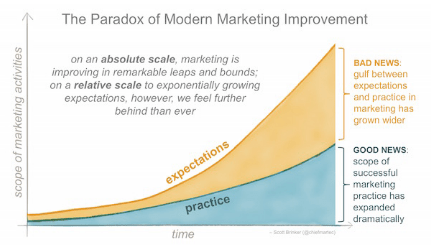 Jason Miller, Linkedin – "How Linkedin uses Linkedin for Marketing"
Next up was Jason Miller, Head of Content & Social at Linkedin. His message was on how the company he works for uses their own platform as a marketing tool. One of the strongest messages Jason promoted was that there are three types of successful blog content on Linkedin:
Power Pages (2000 words of "how to" and "what is"), strong opinions (editorial) and research.
Miller also suggested that posting better content with less frequency would provide better results than blurting out content every day, and proved his case. Posting just once a week, his KPIs all grew ridiculously in comparison, with reduced effort in producing the amount of content as previous.
"People are trusted more than companies". Employee advocacy is a technique that is often undervalued and underused by companies of all sizes. You'll get a far greater reach and trust by getting employees on board within your social marketing campaigns.
Andrea Clatworthy, Fujitsu – "Why Everyone is Talking about ABM"
Andrea discussed how Fujitsu implemented account-based marketing, including how they did things very wrong in their early stages! Starting with a 58 person team, they targeted 58 accounts; Andrea discussed how this was far too many to handle, and recommended that anyone starting out should target 3-4 accounts at most.
If you don't have 58 people in your marketing team, don't fear! Andrea explained how there are differing levels of ABM:
Strategic ABM – 1 to 1 accounts. A senior marketer crafting fully tailored marketing plans and programmes as an integral part of the overall account plan.
ABM Lite – 1 to few accounts. This focusses on a group of accounts that typically have similar attributes. A marketer may target a certain sector within a market, so that the marketing material will be personalised, but also automated to an extent.
Programmatic ABM – 1 to many accounts. This is near full automation of ABM, using technology to target hundreds or thousands of accounts. Whilst this is less resource intense, the returns expected from this type of ABM is typically less than those above.

David Beard, Sage – "Are You Truly Working End to End With Your Marketing?"
"Digital transformation isn't really about the technologies; the strength is about how they're integrated and how they transform business operations". David preached about system integration and the power of using business data to create future insight. Having your systems talking to each other keeps all the different parts of your business in conjunction, working together to help paint a picture of your customers and what you can do to entice them.
John Mitchison, DMA – "Implications of ePrivacy for B2B Marketers"
With the impending implementation of GDPR, John Mitchison discussed upcoming data regulations and how different types of marketing will be affected. Whilst direct mail, telephone marketing and other forms of marketing were discussed, the hot topic was that of email.
The main discussion within email marketing was the conflict between consent and legitimate interest based data processing. John suggested that most B2B marketers will probably continue email marketing through legitimate interest, although there were definitely a few people in the crowd who grumbled at this! One problem that did rise were those business addresses who belong to non-limited companies.
Get In Touch
Contact us if you have any questions regarding this blog or any of our services, which include software development, data insights and web and mobile apps.