Situation
Cathryn Fox, the founder of Objective, is an avid player of the card game bridge and has recently setup a charity bridge event to be held in Chelmsford. However, whilst many hours had been spent preparing for and organising the event, Cath was finding it difficult to find a booking and registration system which accepted payments that she could trust.
Solution
Objective developed a simple WordPress site, Cathé Bridge, which incorporated 3 pages. These pages were:
A home page detailing the information of the event
A registrations page, which included integrations and personalisation for both WooCommerce (a platform for selling products) and Stripe (a service for processing online payments)
A page with more information on the associated charities (The Essex Community Foundation & The Honalee Fund)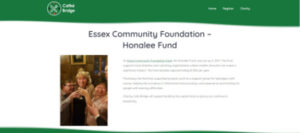 Business Benefits
There is now a simple and efficient way to register and process payments for the event
The online site acts as a hub of information for prospects
This site can be re-used and adapted for similar future events
"

The website development provided everything I was after to help organise my Cathe Bridge event. From registration to buying tickets, everything worked seamlessly and exactly as I had hoped. It was a great project all around!
WordPress, HTML, CSS, Javascript, WooCommerce Integration, Stripe Integration, Google Maps Integration.
More on the Honalee Fund
The Honalee Fund was setup in 2017 to celebrate the 30th anniversary of Objective's inception. The fund allows the company and its staff to give back to the community where we live and work, supporting projects in Chelmsford and the surrounding areas. With Lara Fox now at the helm of Objective, she's very keen to push the fund and to try and support those less fortunate than us, believing that giving back is an important aspect of a good business ethos.
Other relevant content you maybe interested in