One Version of the Truth is a view of data that everyone in a company agrees is the real and trusted version. Technically, it is a data warehousing ideal, a single centralised database which stores all an organisation's data in a consistent and non-redundant form.
The data warehouse does not need to be huge. In a normal SME it could contain operational data, accounts data, web analytics and perhaps some customer relationship data such as from email marketing. The data warehouse is often a simplified version of the overall data. It is architected to support fast reporting and data processing. It is easier for the user to navigate.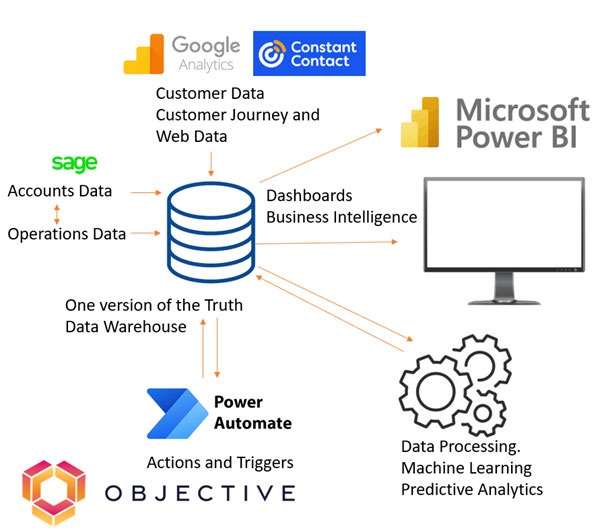 In the example shown, our customer used a Google expert to properly tag their web data. Further they have employed an off-the-shelf email marketing package to track opens and clicks.
They are using Sage Accounts and have a bespoke system to handle their day-to-day operation needs. This bespoke system sends invoices to Sage.
By combining this data into our "One Version of The Truth" data warehouse, we have created a new simplified database that is always up to date and links the software packages together. For example, the data warehouse understands which customer in Sage is the same customer in the operation system, the emailing marketing system, and the web system. We can follow the customer journey and produce dynamic Business Intelligence and Dashboards. These may show the behaviour and timeline linking opens and clicks in the email marketing data, to web activity and perhaps a request for a quote and order.
The data may also be processed to enrich it. By tracking the patterns of behaviour a prospect shows, we can keep an "electronic eye" out for others showing the same behaviour. The electronic eye could be used to categorise a prospect as "hot", "warm" or "cold" allowing us to focus our efforts on the better prospects. Machine Learning and Data Analytics Software offer a range of statistical tools that allow us to track multi-dimensional patterns that are complex to spot. Our data can often spot good and bad prospects before we can!
A more recent addition to Microsoft's toolset is Power Automate. Power Automate allows us to create "actions" such as sending an email or creating a web pop-up as a result of a workflow. So, when our electronic eye spots a hot prospect that is based in London who perhaps has not accepted a quote we sent, we may send a personalised offer or request for a call.
Any of the software mentioned could be replaced with other software. We just need to be able to connect to it so we can extract the data and bring it into the data warehouse.
Objective offers:
Initial Consultancy to understand your business and business goals.
Consultancy and Design of your own data warehouse by SQL experts.
Consultancy and set-up of Google Analytics.
Working with and building APIs to move data from your core systems to your data warehouse.
Extract, Transform and Load using the Microsoft toolsets.
Option of combined support and/or training package to maintain your data warehouse.
You now have a populated data warehouse that updates itself. One Version of the Truth.
Building SQL queries to create Dynamic Dashboards using Microsoft Power BI
Option of combined support and/or training package on how to use Power BI.
You now have Dynamic Dashboards. Your finger is on the pulse!
Workshop reviewing your data sets, some basic correlation analysis and a walk through some Machine Learning and Analytics models that could support your business goals.
Optionally, build the Data Processing, Machine Learning and Analytics Models.
Workshop outlining how Power Automate works and how it could benefit your business.
Optionally, build Power Automate functionality into your system.
You now have the perfect platform to put you in control or your business.
Arranging regular strategy meetings outlining the latest technical options so you can plan forward.
With continuity assured, most of our staff have worked for us for over ten years, Objective can work to complement and enhance your team or work on turnkey projects.
In it for the long term… with the intention of Turning Your Vision into Success. The team at Objective includes:
Software Development Engineers, ETL Experts, Business Analysts, Data Scientists, Data Consultants, Machine Learning and Artificial Intelligence Experts, Google Specialists, Power BI Specialists, Post Graduate Marketing Experts, Master's in Business Administration (MBA), Project Management and more.
Other content you may be interested in…