About Everglade Windows
Everglade Windows is a family run window and door manufacturer, based in London, which has been established for over 40 years. Everglade Windows supplies to trade customers across England and supplies and fits in the commercial sector.
The company invests heavily in state-of-the-art machines, putting them in a strong position to offer quality, choice, and speed in fabrication of an extensive product range. Objective were asked to help work out how Everglade could better use their data.
Challenge
Data from multiple sources.
Because of challenges with fragmented data and data sitting across multiple platforms, Everglade Windows' Sales team was spending 25% percent of its time manually preparing reports to track sales performance against target and only 75% of its time was left for sales.
Data Security.
Everglade Windows understand the power of data analytics but remain concerned about how analytics tools might expose them to security threats.
Translating data into business insights.
One of the biggest data challenges the company was facing was the quick discovery of insights that matter to the business.
Historically, external consultants often lacked the domain expertise to focus their efforts and explain findings, while in-house experts lack data science skills which sometimes make it hard to get actionable business insights.

Solution
After an initial introduction of Objective's data analytics services and holding a discovery workshop to identify the Everglade's business requirements, we agreed on a roadmap and data strategy with set priorities.
As an outcome from the project, a bespoke web portal was developed. The custom-built web portal allows Everglade's users to log in and view reports and documents appropriate for them. Multiple areas such as 'Management Reports' and 'Company Reports' with differing user permissions hold Power BI reporting dashboards, combining data from different systems to provide an important insight into company KPIs and other useful information.
Other dashboards allow for comparison between the different systems to monitor discrepancies in data. Alongside these reports the portal has a document library, which allows for organised storage of related documents, using a library and sub-library based system, which can be controlled by admins.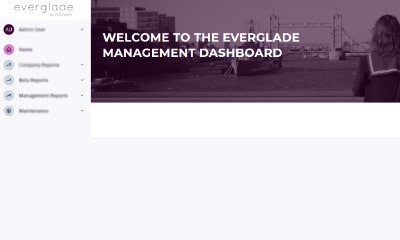 Business Benefits
Data security – A controlled environment for data analytics operations has been created. This solution unlocked the ability to control and make use of latest data analytics techniques and tools without sacrificing data security.
Delivering Business Insights – Objective successfully used Power BI dashboards to make Everglade Windows' data work for them.  With these new insights, the company is fine tuning operational performance, building better customer experiences and lifting sales.
Automating established reports – Number of well-established reports were kept in Excel format; however, those have been automated and now decision makers at Everglade Windows can pull meaningful insights instantly, a task that used to take days or even weeks.
Accessible information – A centralised portal for accessing information is currently in development. It aims to provide Everglade Windows' decision-makers with easy access to data and insights on what is happening at any given moment even if they are working off-site. Authorised employees will be able to securely view data from anywhere enabling high-speed decision making.
"
"We found the Objective team very flexible and accommodating. When previously agreed dates for database and reporting consultancy needed changing at short notice, and extra days on site were required, Objective proved very helpful. This is not the case with all tech companies."
Products and Technologies Used
.NET, Power BI, Microsoft Excel
Other relevant content you maybe interested in